Unisex toilets
All students should have access to toilets on campus that respect their gender identity.
Toilets for all
All campus buildings should provide access to female, male, gender-free, and disabled toilets. While anyone can use a gender neutral toilet, they are particularly important for students and staff
who may feel uncomfortable in or unable to use gendered bathrooms.
who transition from female to male, or from male to female.
who don't identify as female or male.
whose gender is sometimes misread.
Depending on the toilet facilities, some toilets are easily transformed into gender-neutral toilets by signage. For small buildings providing gender neutral toilets may include signposting access to these toilets within other reasonably nearby buildings. Multi-cubicle toilets require more planning, and it is important to bear in mind that there are people who want to continue using gender-specific toilets rather than gender-free alternatives.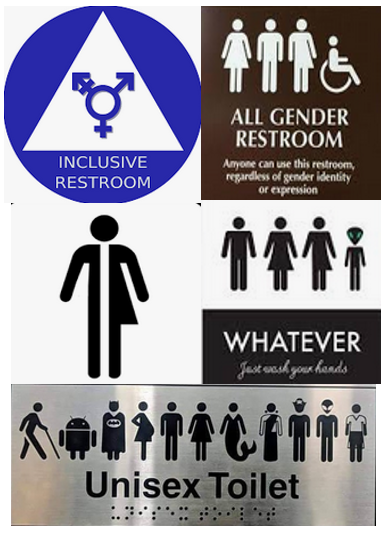 Examples for gender neutral toilet signage
Sources: The University of Edingburgh