Guidelines for affirming sexual orientation
These guidelines give examples how to make HEI's more inclusive in recognizing and acknowledging students'  varied sexual orientations.
Example from social work education
Developing the knowledge and skills of all stakeholders in education can contribute to environments that ensure dignity and respect for students, faculty, and staff and ultimately promote culturally competent social work practice with gender diverse clients. The report provides guidelines for the creation of social work educational environments that affirm transgender and gender nonconforming (TGNC) identities.The document can also be used by (social work) faculty members to incorporate content on TGNC issues into the curriculum and to enhance inclusivity of classroom activities.
Council on Social Work Education: Guidelines for Transgender and Gender Nonconforming (TGNC) Affirmative Education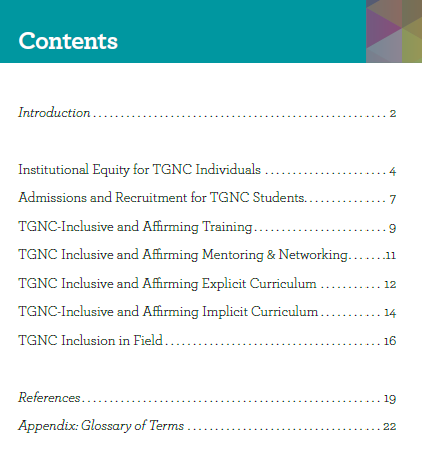 Example from Michigan State Board of Education
These guidelines are aimed at supporting  Michigan schools in creating an inclusive school environment for all students. These guidelines are voluntary and should not be considered mandates or requirements. The guidance is based on the knowledge that LGBTQ students, nationally and in Michigan, are targeted with physical violence and experience a hostile school environment more frequently than their non-LGBTQ peers.
Guidance on Safe and Supportive Learning Environments for Lesbian, Gay, Bisexual, Transgender, and Questioning (LGBTQ) Students
The guidance summarized:
Adopt, implement, and enforce policies protecting students from harassment, violence, and discrimination for any reason including based on their real or perceived sexual orientation, gender identity, and/or gender expression
Provide professional development opportunities on issues affecting LGBTQ students to district staff and board members.
In accordance with the Equal Access Act, support the formation of extracurricular student-led clubs, such as Gay-Straight Alliances or Gender and Sexuality Alliances (GSAs) in middle and high schools.
Provide appropriate and meaningful family engagement and support.
Encourage respect for the human and civil rights of all people, including those who are LGBTQ.
Provide developmentally-appropriate information about LGBTQ issues in school libraries and in student and faculty resource centers.
Collect and review data to identify disparities that create barriers to a safe and successful learning experience for LGBTQ students.
Designate a building-level staff member who is conversant in issues related to sexual orientation, gender identity, and gender expression.
Consider the following factors in supporting Transgender and Gender Nonconforming (GNC) Students:
Student identity
Names and pronouns
Student records
Privacy and confidentiality regarding disclosures
Gender-segregated activities and facilities
Restrooms
Locker rooms and changing facilities
Physical dducation classes and intramural sports
Interscholastic sports
Gender-based activities or practices
Dress code.