Hand signals
Hand-signals are a technique that can make workshops and meetings run more smoothly and help the facilitator see emerging agreements and common ground.
Hand-signals may also help diverse students to get their voice heard during the learning conversations. The basic concept is that people use different gestures or shapes with their hands, to communicate some basic ideas in a non-verbal way (e.g. "I want to speak", "I agree", "I don't understand").
Forefinger: wish to speak.
Two forefingers: direct response to a point
Wiggling hands: silent applause
L-shape: language issue
T-shape: technical issue.
Read more about the hand signal technique in the attachment or invent similar gestures to your teaching needs.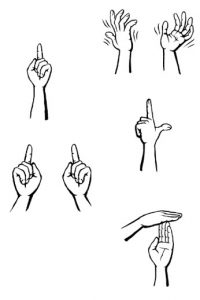 Source: Seeds for Change, Facilitation tools for meetings and workshops: https://www.seedsforchange.org.uk/tools.pdf
All Seeds for Change guides are anti-copyright. Feel free to copy, adapt, use and distribute them, as long as the final work remains anti-copyright. If you translate any of our work please let us know so that we can link to your translation.