Patchwork Assessment
Patchwork assessment is based on a student-driven, flexible way of demonstrating acquired competences.
Patchwork feedback applies formative and summative assessment and permits continuous, deep learning and student-driven pacing. It is based on the patchwork text (PT) assessment innovation (Dalrymple & Smith 2008), and offers an approach for an inclusive assessment strategy (Gandhi). The use of different formats empowers different student "voices".
Key aspects of Patchwork Assessment
Variety of small sections (patches).

Focus on different aspects of the course.

Students can choose how they present their patches (e.g. essay, poster, book review, podcast, video clip).

Students are enabled to work in their preferred learning styles.

No distinction between types of students as different learners seen as a part of a continuum of learners with different strengths and weaknesses.

Flexibility of assessment choice.

Student preference for assessment modes.

Core and optional elements.

Resubmission of prior patches.

Provision of summative feedback before the final submission.

Patches stitched together with a retrospective reflection and analysis.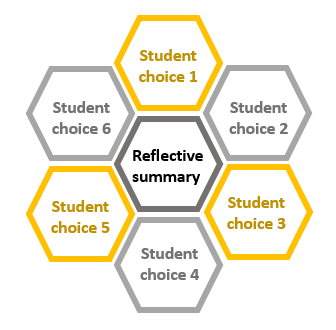 Sources:
Gandhi, S. (2016) Confessions of an accidental inclusivist. In: Equality and diversity in learning and teaching in higher education. Papers from Equality Challenge Unit and Higher Education Academy joint conferences.
Dalrymple, R and Smith, P (2008) The patchwork text: enabling discursive writing and reflective practice on a foundation module in work-based learning. Innovations in Education and Teaching International 45(1), 47–54.