Guidelines on gender fair curriculum development
Get support for developing a gender fair curriculum. This document guides you through the relevant steps and poses helpful questions.
The Guidelines by Barbara Hay, University of Graz, are a helpful document for ensuring gender fair curriculum development. It suggests, for example, to take the following steps:
1. Diagnosis tool for identification of gender-relevant aspects in curricula (pp. 9 – 13)
This chapter helps to analyze the parts of curricula in which improvement of gender fairness can be achieved. Considered are unequal opportunities from an acccess (uneven distribution of resources) and a success (discrimination) side.
2. Gender Fairness in the curriculum development process: Catalogue of relevant aspects (pp. 14 – 19)
Based on the analysis of unequal opportunities six steps to establish a gender fair curriculum are provided:
1. Target group definition, access
2. Definition of learning needs, teaching objectives, learning outcomes
3. Definition and compilation of teaching contents
4. Compiling teaching materials
5. Teaching methods
6. Forms of organisation
You will also receive some background information at the beginning like:
Gender fairness: What does it mean?
Is this problem still relevant today ?
Relevance for the educational area?
In the supplement you can find
– possible interventions and concrete measures in curriculum development
– a glossary with basic terms
– tips for further reading and links.
Check also other gender-related issues posted in our Diversity dimensions > Gender section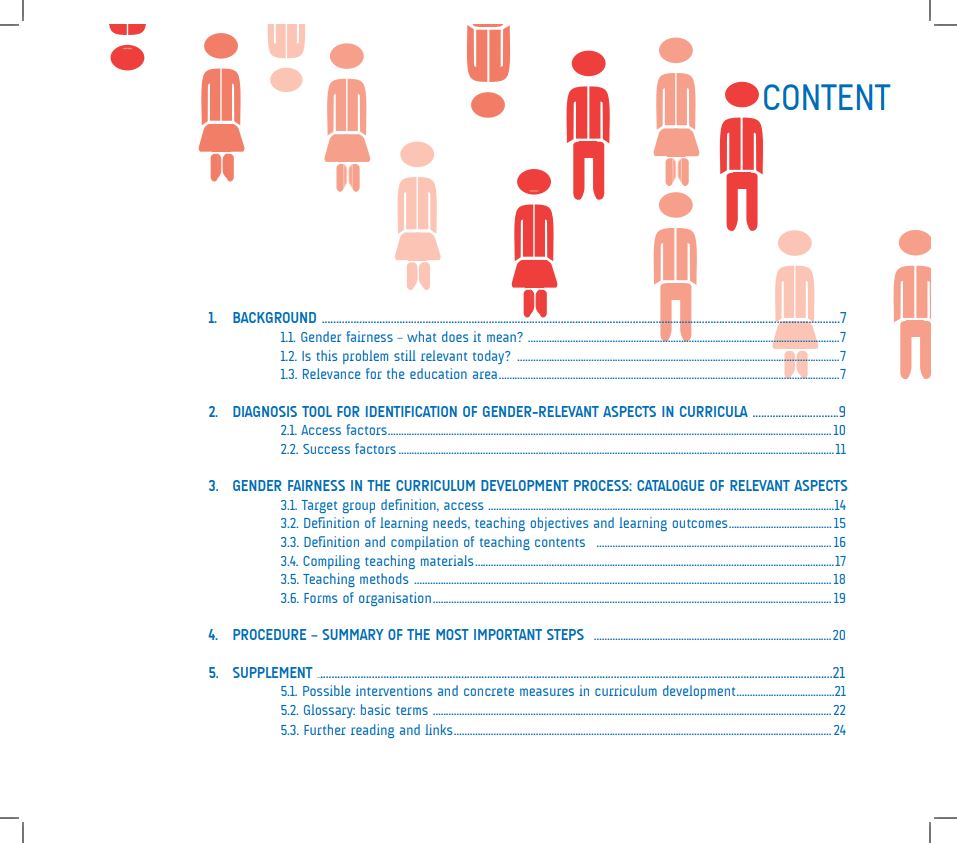 Content page of the guidelines
Source: Used with permission
Dr. Barbara Hay MBA, University of Graz, Austria