First 100 days
Starting studies is a critical phase. Many students drop out during the early stages due to several reasons – which may also be caused by a lack of inclusion. The following example provides tips for including all students, preventing drop-out, and enhancing student well-being.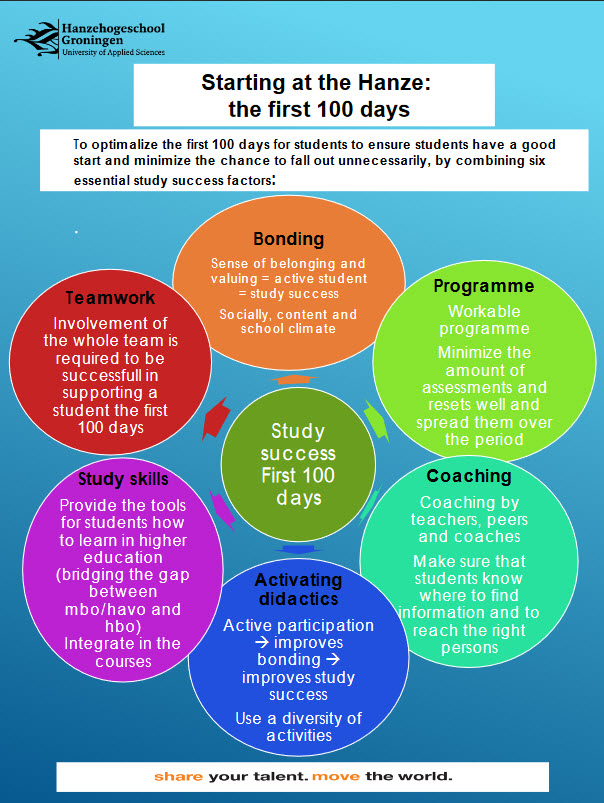 Starting out in higher education: A case example from Hanze UAS
The first 100 days are critical when it comes to retaining hesitant and insecure students. To ensure that students have a good start and to minimize the chance for unnecessary drop-outs, Hanze UAS (Groningen, the Netherlands) focuses on six essential study success factors.
BONDING: enhancing the sense of belonging and value, in content and in atmosphere.
PROGRAMME: creating a workable programme by minimizing the amount of assessment and resets, and spreading them over a longer period.
COACHING: making sure that students know where to find information and the right people. Coaching provided by teachers, peers and administrative staff.
ACTIVATING DIDACTICS: using a variety of activities: Active participation improves bonding and study success.
STUDY SKILLS: providing tools for students to learn in higher education and bridging the gap between earlier studies.
TEAMWORK: involving all students and staff is required to be successful in supporting the study start.
Source: Hanze University of Applied Sciences, 2019